We request you to follow the guidelines provided below to ensure a smooth and successful presentation:
For paper presentation
Presentation slide
Send your presentation slide (PDF or PowerPoint) through this LINK before October 4, 2023. We will upload your presentation slides at figshare.
Presentation time
You will have a total of 20 minutes allocated for your presentation, including the question-and-answer session and change of speakers. Plan your presentation accordingly to effectively convey your key points within the given time frame. If possible, kindly focus your presentation on policy issues.
Meet with the session chair
At least five minutes before your session begins, please make sure to introduce yourself to the session chair. This will help establish a smooth communication flow during the session and ensure that any necessary instructions or arrangements are properly communicated.
Transfer of presentation slide
Ahead of the start of your session, please transfer your presentation file to the computer allocated by the organizers for the presenters, preferably a minimum of ten minutes in advance. This step will guarantee a smooth transition between presenters.
Check slide functionality
Ensure that all slides, animations, embedded media, and any other multimedia elements are working correctly. This will help avoid any technical glitches during your presentation and ensure a professional delivery.
Prepare for Q & A
As part of your allocated time, a portion will be dedicated to questions and answers from the audience. Be prepared to address queries and engage in discussions related to your presentation topic. It is recommended to anticipate potential questions and rehearse concise and informative responses to facilitate meaningful interactions.
For poster presentation
The author(s) have the freedom to decide on the formatting of the poster. Here, we are providing some guidelines to ensure a successful presentation:
Poster design
i) We highly recommend preparing a concise summary of your poster, including key findings, implications, and any notable highlights, to facilitate meaningful discussions with attendees.
ii) The primary focus should be on what key points or aspects you would like the viewer to remember.
iii) Ensure that these points stand out and leave a lasting impression.
iv) Engaging visuals and clear explanations will help convey the essence of your research effectively.
v) Ensure that all illustrations are self-explanatory with proper labelling and copyright issues (if applicable) has been considered.
vi) Limited color for emphasis and readability through contrast.
Poster size
Prepare a standard A0 size poster (Height: 120 cm, Width: 90 cm, see the photo below) or smaller with vertical orientation. The title of the poster CAN be minimum 60 front size and text Minimum 22 throughout the poster. Aim for a word count of maximum 600 words or less. Utilize bullets and numbered lists for better readability.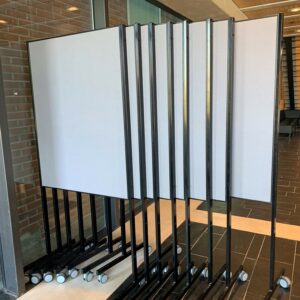 Poster minute-madness
You will have a dedicated one-minute slot for poster minute-madness, where you will have the opportunity to briefly introduce your poster to the audience.
Meet with the session chair
At least five minutes before the designated poster session, please introduce yourself to the Session chair. This will allow for a smooth transition and enable the session chair to provide any necessary instructions or guidance.
Poster session and lunch
The poster session will be followed by the lunch break on Day 2: October 12, 2023. We request that you prioritize having your lunch before standing close to your poster to engage with conference attendees. This will ensure that you have sufficient energy and time to interact with interested individuals, answer questions, and discuss your research.
During the coffee breaks on both Day 2 (after lunch) and Day 3 (morning), you MAY remain near your poster and make yourself available for discussions. This additional opportunity for engagement will allow for further interactions with interested participants who may have missed the dedicated poster session.
Poster display
i) Place your poster on the designated poster board assigned to you, as indicated by the number next to your poster in the program schedule.
ii) Your poster should be available for display from Day 1 until lunchtime on Day 3.
iii) Ensure that your poster is properly mounted and visible to attendees throughout this duration.
iv) Feel free to contact the 'Information desk' if you need any assistance on the spot.
v) Remove your poster by the end of the last day. Any remaining posters at the end of the workshop will regrettably be discarded.
We look forward to your valuable contribution to the NWB2023.